Proudly Australian, Embelton has been a leader in Vibration and Noise control for over 60 years.
We combine our industry experience with advanced research and development capabilities to ensure that our customers get solutions that meet or exceed performance requirements without overburdening their budget.
Our engineers design, develop and test products with a combination of software analysis tools such as FEA and physical testing in our on-site laboratories. Our clients can also take comfort that our quality management system is ISO: 9001 accredited.
Noise Solutions
Design
Our team of qualified engineers can provide design advice and layout drawings drafted with AutoCAD, as well as make modifications to systems and components to meet project specific performance needs. Working with architects, builders, and acoustic specialists many of our solutions require bespoke detailing. Complimentary to our vibration isolation systems, our areas of design specialty include sheet and structural steel fabrication, helical compression springs and elastomeric bearing design for a range of environments.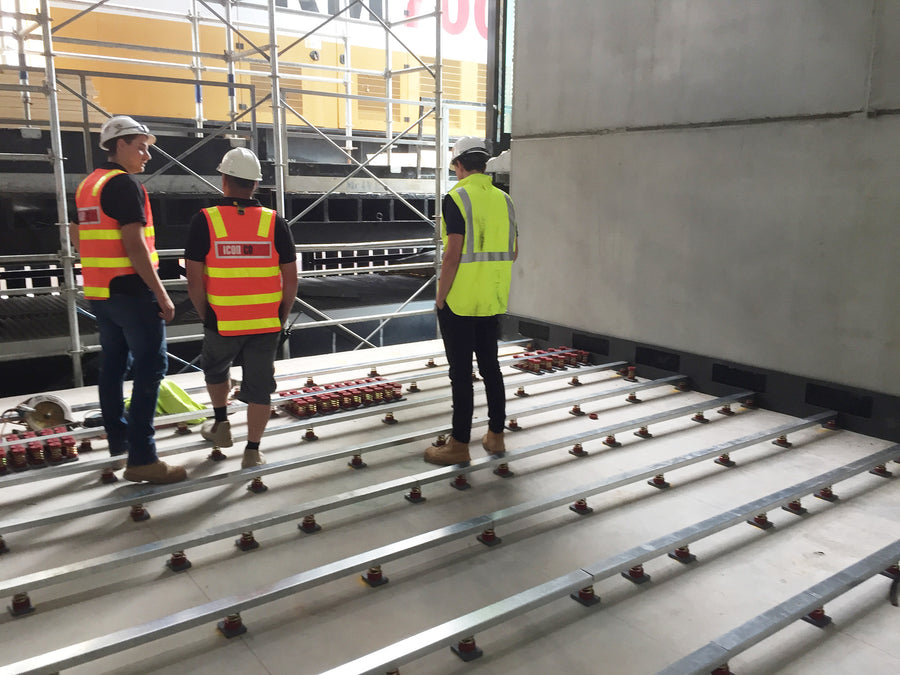 Installation & Project Management
Embelton has a proven ability and experience in project installation. Utilising a team of professional trades, well experienced on Tier One building sites to install products as per Embelton Engineering drawings. Contact our team to discuss your project requirements.
Testing and Analysis
To assist in the development of new products and find solutions for a range of vibration and noise issues, we benefit from having in-house testing facilities. These facilities are used for prototype testing and product development, allowing us to combine FEA stress analysis with empirical data to help develop new and innovative solutions.
Read More

Our in-house testing facilities have a unique vertical source/receiver room with a 150mm isolated concrete slab for the purpose of testing floor-ceiling attenuation. Testing functions include L'nT,w, sound absorption coefficients, airborne noise transmission, regenerated noise from floor impacts. 

We can also test static load using custom built equipment designed and manufactured in-house that utilises a hydraulic ram and load/deflection gauges to test prototype restraint capacities in different configurations.  

Our equipment and testing abilities are complimented by using Noise/vibration analysis equipment including triaxial accelerometer, class 1 microphone, and sound analyser.
Manufacturing
Embelton has in-house facilities for welding, cutting, punching, pipe & tube bending of mild and stainless steel, and has strong relationships with local laser cutting and folding services which have a range of finishing options.
NATIONAL WAREHOUSING
With five warehouses around Australia, Embelton holds stock across the country to fulfil local, national and even international customers orders.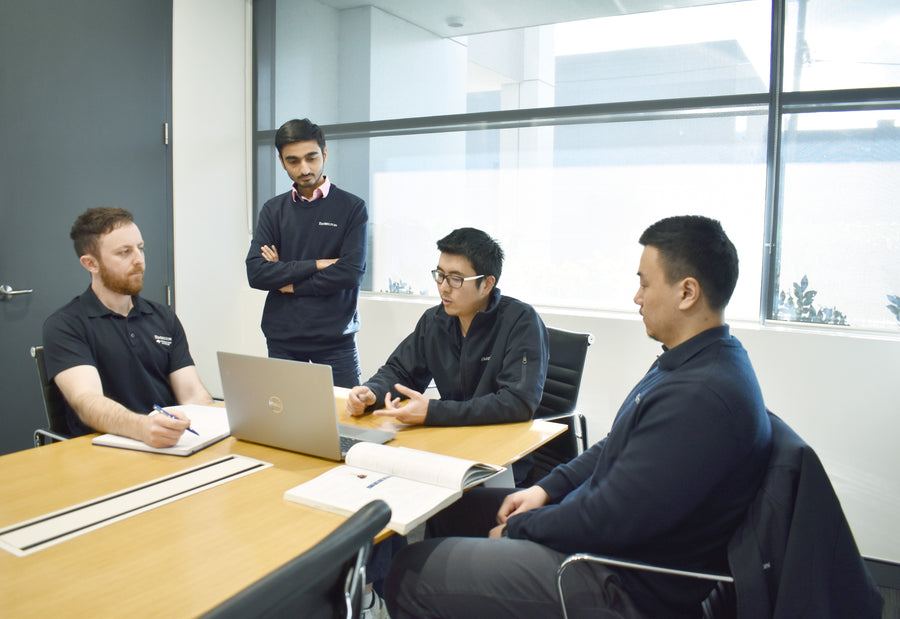 Consulting
Working closely on projects with acoustic and structural consulting engineers we develop noise and vibration solutions that are paired with practical solutions incorporating our range of systems and products.
We offer advice and consultation on a range of equipment and machinery vibration isolation needs, calculating the required loads and static deflection needs to ensure correct mount specification. We can also offer a full range of seismic mounts manufactured to meet AS1170.4.  
Working with acoustic consultants' reports we recommend the best gym floor isolation systems to control noise issues from the lightest pilates floor systems to heavy weight drop areas, ensuring compliance with body corporate concerns, building fatigue issues or general noise mitigation. This process ensures conformance with acoustic specification.